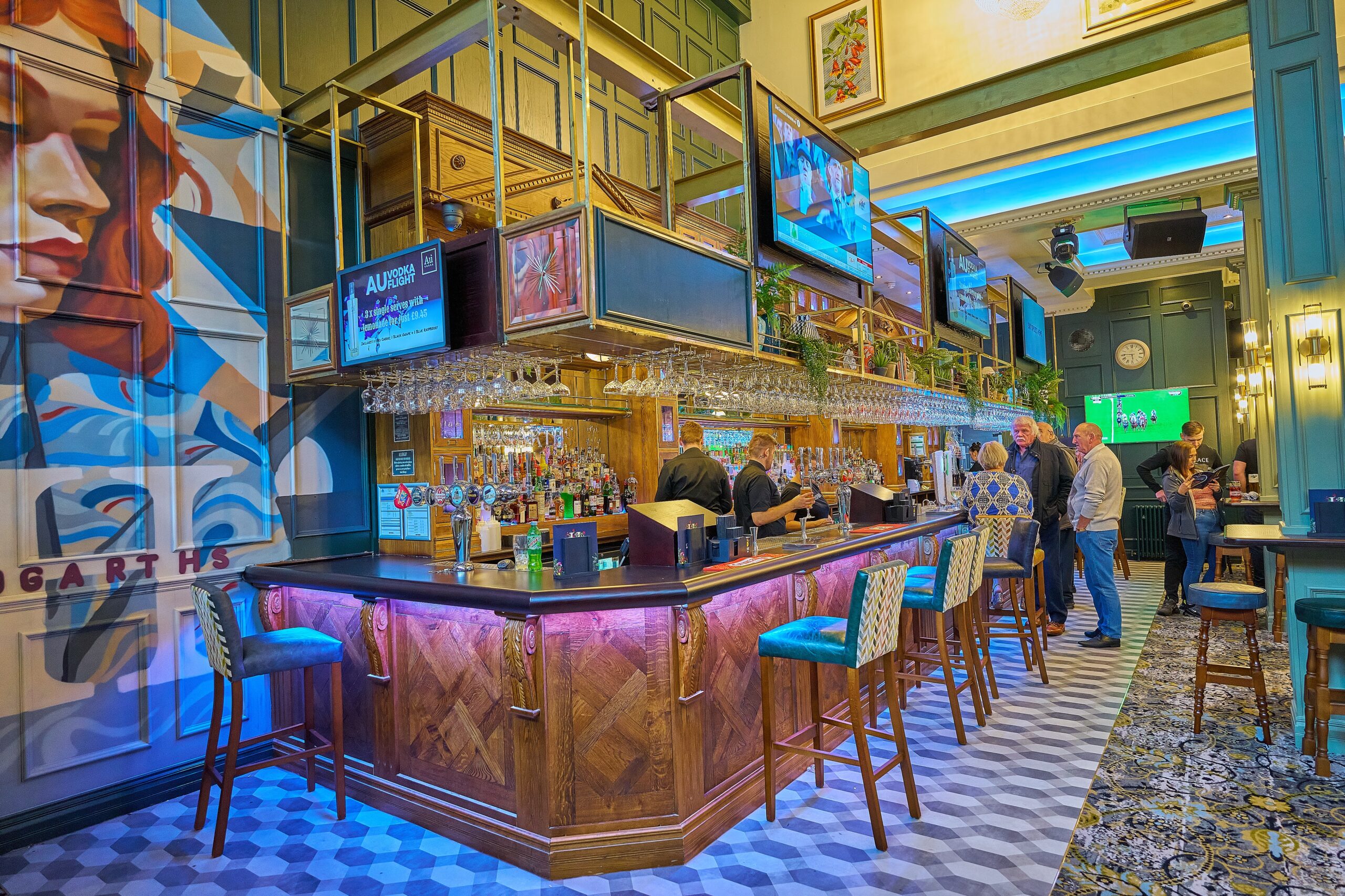 Nestled in the heart of Lancaster, Hogarths has been a beloved social hub for locals and visitors alike for many years, and has witnessed countless memories, laughter, and camaraderie. But as time passed, the need for a change arrived. Finally, after much anticipation, Hogarths has undergone a monumental refurbishment, revealing a brand new look that is sure to captivate the hearts of patrons old and new.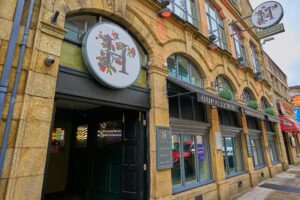 With a commitment to preserving its rich heritage while embracing modern trends, the management of Hogarths embarked on a journey of transformation. They recognised the importance of maintaining the welcoming atmosphere that made the bar so cherished, while also elevating the overall experience for visitors.
The key to the success of Hogarths' refurbishment lies in its meticulously crafted design concept. The interior has been reimagined with an emphasis on contemporary aesthetics while paying homage to the bar's traditional roots, blending classic architectural elements with a fresh, vibrant colour palette.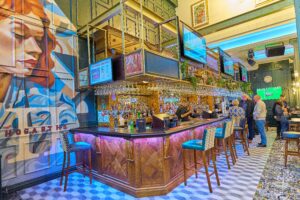 A stunning new addition to the decor is the brand new mural that can be seen as soon as you walk through the doors and can be admired (even when the big screen has been dropped for all the big sporting events)
The new layout ensures that both socialising and relaxation are prioritised. Customers will find a seamless fusion of open spaces and intimate corners, allowing for a range of experiences. From lively gatherings to quiet conversations, the new Hogarths offers a perfect spot for every occasion.
Upstairs now hosts a private karaoke area, with its own private bar. Perfect for parties and groups. Just pick your favourite song and sing your heart out.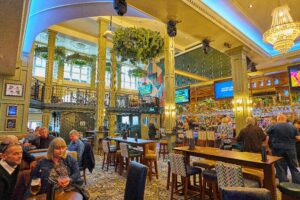 Upon entering the revitalised bar, visitors are immediately greeted by an ambiance that strikes the perfect balance between cozy and chic. The lighting has been carefully curated to create an inviting glow, while carefully placed artwork and decor elements add an air of sophistication. Whether it's a bustling Friday night or a relaxed Sunday afternoon, the atmosphere at Hogarths remains warm and inviting.
The refurbishment of Hogarths Lancaster marks an exciting new chapter in its storied history. With a brilliant blend of contemporary aesthetics, warm ambiance, the bar has evolved into an even more captivating and inviting space for all. As loyal patrons and curious newcomers step through its doors, they are greeted with an experience that pays homage to the past while embracing the spirit of the future. Hogarths is more than just a place to grab a drink; it's a destination where memories are made and cherished, ensuring its position as a cherished Lancaster gem for generations to come.